×
August 1, 2014
Kansas City Ballet Revamps Image with Launch of New Logo for 2014 - 2015 Season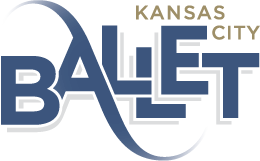 KANSAS CITY, MO (August 1, 2014) – The Kansas City Ballet has introduced a new logo for the company in an effort to better embody the spirit of modern ballet. Through collaborative efforts with local advertising agency DMH, work on the new logo began last fall. The new logo visually represents characteristics that encompass the art form of ballet. Specifically, the strong solid typeface which represents the athleticism required of performers. Conversely, the fluid, symmetrical 'A' that moves through the letterforms is representative of the beauty, style and grace that are equally important aspects to bring to the stage.
Throughout the logo, the letterforms are shown to be dancing with one another. The sum total of these elements make up a logo that shows just what the Kansas City Ballet is about and what they bring to the stage in every performance.
"I saw a real need for a complete update of our branding to reflect the new energy and excitement happening at Kansas City Ballet," says Devon Carney, Kansas City Ballet Artistic Director. "The process was engaging, thorough and thought provoking. DMH took their time and made us feel like what we thought really mattered and ultimately drove the process of visualizing our artistic and organizational intent."
Paul Diamond, Creative Director at DMH describes the entire experience of working with the Kansas City Ballet as rewarding as well. Diamond says, "It was an intuitive, purposeful and collaborative decision. The emotion and feeling required to rebrand an art form is no simple task, but it's our job to balance these aspects and pull out the essence of modern ballet."
"The end product was incredible," says a very excited Carney. "It is a sweeping and moving logo that captures who we are and where we are headed. Kansas City Ballet has a branding represented through this gorgeous logo that now truly captures the beauty, power and passion of our art form of dance."
The new logo will unify all areas of the Kansas City Ballet, including the company itself and the Kansas City Ballet School. By creating a cohesive brand, the Kansas City Ballet hopes to strengthen and enhance their image into one that becomes synonymous with their goals, values and beliefs and that becomes a recognizable logo throughout the Kansas City community.
About Kansas City Ballet
Founded in 1957, Kansas City Ballet is a 28-member professional ballet company under the direction of Artistic Director Devon Carney and Executive Director Jeffrey J. Bentley. Kansas City Ballet performs three mixed repertory seasons per year as well as the ever-popular Nutcracker. The company also reaches over 15,000 Kansas City students and adults each year through its community education programs and provides dance training through the Kansas City Ballet School.
Our new home, Kansas City Ballet's Todd Bolender Center for Dance & Creativity, which opened August 2011, in conjunction with our new stage at the Kauffman Center for the Performing Arts, is poised to make Kansas City AND Kansas City Ballet a true destination for dance.
About DMH
DMH, located in the Stockyards District, established in 2007, provides advertising, design, marketing, as well as other services to provide growing businesses the very best quality of product and service.
< Back to News